Play Simul against Visiting GM Zhao Xue
Play Simul against Visiting GM Zhao Xue
Zhao Xue (赵雪), born 6 April 1985, is a chess player of Chinese nationality. In 2008, she became China's 24th Grandmaster.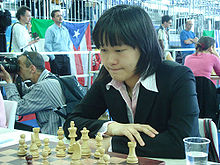 With a FIDE rating of 2519 (June 2015) she is now ranked 12th highest woman in the world.
You now have the opportunity to play against her in a simultaneous chess event!
Date: Monday, 6th July  2015
Time: 14:30 –  17:30
Venue: Activity Room of the Auditorium, Diocesan Boy's School
Fee: $100 for students and $200 for adults
Quota: 20 (first come first serve)
Registration: by e-mail to Treasurer.
Please make cheque payable to "Hong Kong Chess Federation" and mail it to "HONG KONG CHESS FEDERATION, P.O.Box 60007, Tsat Tsz Mui Post Office or hand it in on any of our Monday meetings before the event at Queen Elizabeth Stadium.